Hotel Chain and Loyalty Program
The Peninsula Hong Kong is a flagship of Peninsula Hotels group, the 5 star hotel chain. The PenClub loyalty club offers benefits and privileges.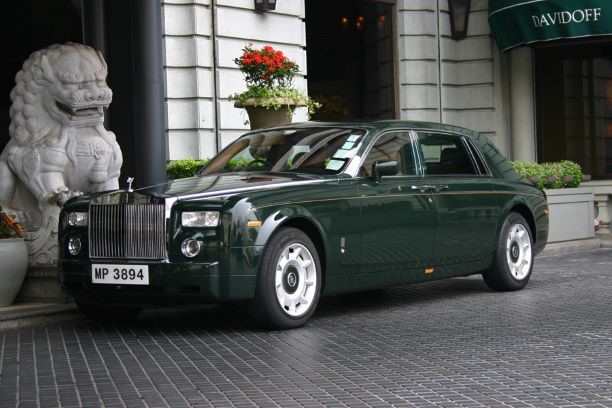 Hotel lobby
The hotel was opened in 1928 as the first property under The Peninsula brand. In 1994 the property was expanded with a 30 floors high building of a similar architectural style as the existing one.
We found the hotel lobby grand and outstanding in modern colonial design. The front office staff was professional and friendly. The check in process was smooth and fast, and soon we got into our Deluxe room. There is also a luggage storage, concierge and all other high standard services located at the hotel lobby with an army of old-school behaving helpful staff.
A British Empire style lobby restaurant decorated with palm trees serves popular afternoon "high" tea not only to the hotel guests. Large opulent stairway leads to the upper floors with numerous upscale branded boutique shops, from fashion articles to jewelry.
Considered to be one of the world's best hotels, it is necessary to mention that hotel operates a fleet of classic Rolls Royce cars for use of hotel guests. There is a heliport on the property roof for those who choose to fly in from the airport. Helicopter tours of Victoria harbor and city are organized there as well.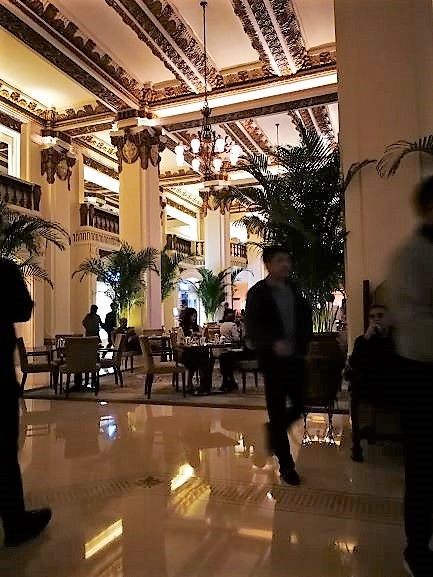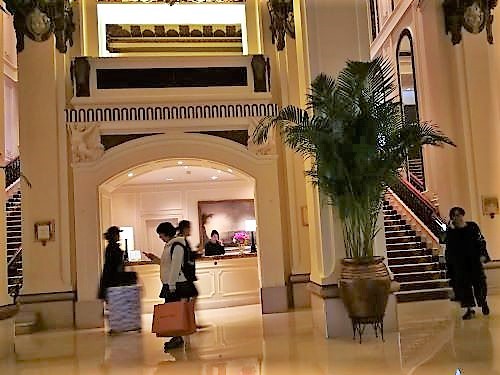 Location
Kowloon. In the middle of Tsim Sha Tsui, the vibrant business and cultural area of the city. Hong Kong international airport is about an hour drive, of course, if you don't choose to fly by a helicopter. It is a walking distance to many cultural and performances venues such as Hong Kong Cultural Center, Hong Kong Museum of Art or Hong Kong Space Museum. Star Ferry port is located only a few minutes by walk. The other attractions around are the Clock Tower or Avenue of Stars – inspired by Hollywood walk of fame.
Room
The hotel has 300 spacious and luxurious rooms and suites. Our Deluxe Room had approximately 45sqm and a view of Kowloon, and had a very contemporary Chinese peach blossom motif. Very elegant! Room is decorated in light beige and dark wood color in savor classic and modern design. The room is equipped with large TV and all functions you can expect from the 5 star property. The room temperature, light curtains, room service or entertainment can be controlled from the tablet next to a comfortable bed. Very hi-tech equipment. Nespresso coffee machine and tea machine, minibar and many different amenities are there too.
The marble bathroom has a large bath tub and a separate shower corner. The classic décor includes old fashioned wash basins, mirror as well as faucets. Branded bathroom amenities as shaving cream, body wash, dental supplies and others are part of the bathroom equipment.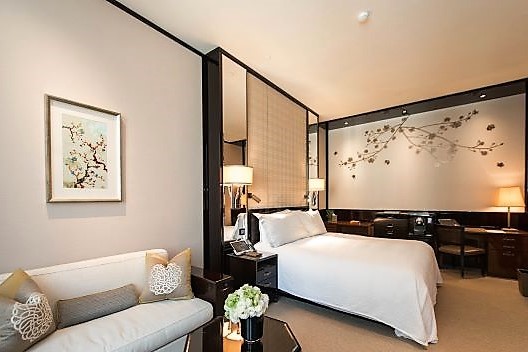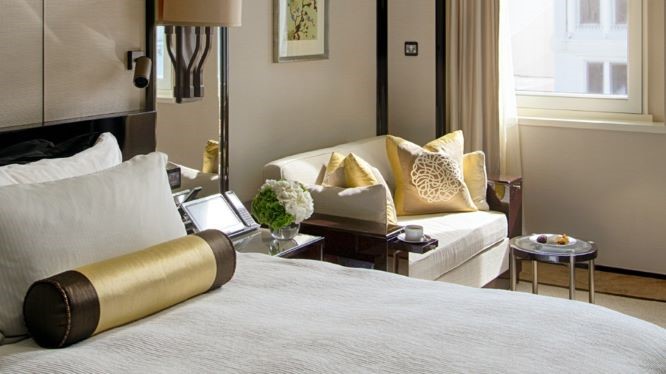 Each room comes with a courtesy box for laundry services and shoe polishing. Wifi connectivity is stable and fast.
Restaurants and food
There is 8 restaurants at the hotel. The Verandah restaurant serves buffet style breakfast with huge choice of options. Cold, hot, continental, western, Chinese… simply everything you can imagine. The Verandah restaurant serves continental food after breakfast hours. The Lobby restaurant serves breakfast too. From 2pm to 6pm, this place is reserved for the famous Afternoon Tea. The Spring Moon restaurant is a Michelin-starred venue serving Cantonese cuisine. To say the truth we probably had the best Peking duck dish at this restaurant. Stunning meal. Imasa is specializing for Japanese food. The other restaurants are Chesa, Gaddi's or Felix famous for their modern European food. And The Bar is a bar and lounge with wines, cocktails and drinks on offer.
The hotel can be proud of its own champagne, The Peninsula champagne. Very trendy!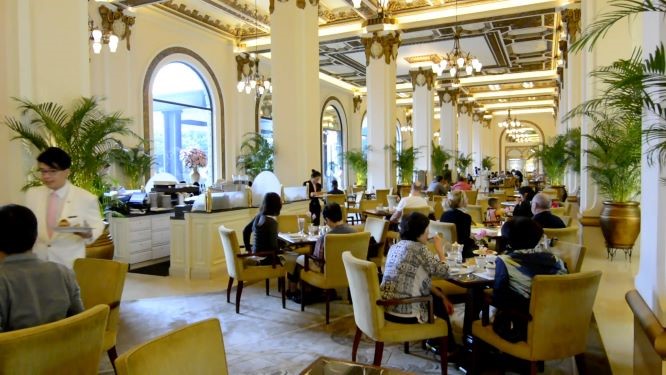 Leisure facilities
There is an indoor swimming pool located on the 8th floor which offers the guests fantastic view of Hong Kong Island. Fitness center is well-equipped and is open 24 hours a day. The Peninsula Spa has several rooms for guests relaxation in sauna, hammam steam rooms and aromatherapy.
Verdict
Best for :
classic colonial luxury combined with modern technology
Don't miss :
Peking duck meal at Spring Moon Michelin-starred restaurant
Room price :
from 520,- EUR / Deluxe Room
Contact : https://www.peninsula.com/en/hong-kong/5-star-luxury-hotel-kowloon
Salisbury Rd, Tsim Sha Tsui, Hongkong
Tel: +852 2920 2888