Street signature meal
No specific restaurant, no specific location. It is just a very typical dish which can be found anywhere in the city. Lets have a look at Fried Hokkien Mee aka Singapore Noodles.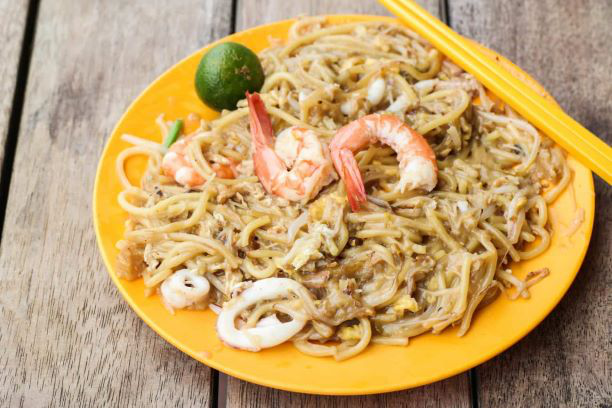 That is one of the best hawker foods this city has to offer. You can hardly find the meal in the upscale restaurants but many food stall eateries around the city have this food on offer.
Some people eat to live, many Singaporeans live to eat. They are willing to travel around the city and tiny islands to seek out the best dishes, and hokkien mee is definitely one of those favourities. Whether it is wet or dry version, whether thick or thin bee hon noodles are used, whether samba or chopped chili is served as condiment, hokkien mee is just attractive in its own way.
This humble and flavourful noodle dish made with rich stock, prawns, prawns, squid, pork belly and lard cubes traces it roots in Fujian province in China. Brought to Southeast Asia by early immigrants, the dish has morphed into different variations – the Malaysian, more dry one, uses dark soy sauce and thick noodles whereas the Singaporean variation which is more wet, uses thin yellow noodles with vermicelli.
The dish uses strong prawn broth for the main flavor in the meal, seafood topping like squid and prawns as well as pork lard and eggs. The fat is infused perfectly with the stock, and thus adding depth to its tasty flavor.
My favorite place to have this meal is the FoodRepublic foodcourt of Parkway Parade Mall located in East Cost. Certainly, many eateries throughout the city serve the dish. The meal might vary very slightly at different places however all of them are tasty, for sure, and loved not only by locals but visitors too.
The hokkien mee dish is usually offered in 4 to 8 Singapore Dollars (2.5 to 5 EUR), from small to median and large portion.