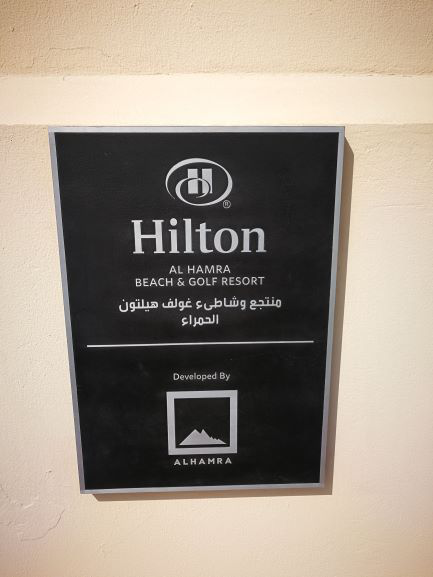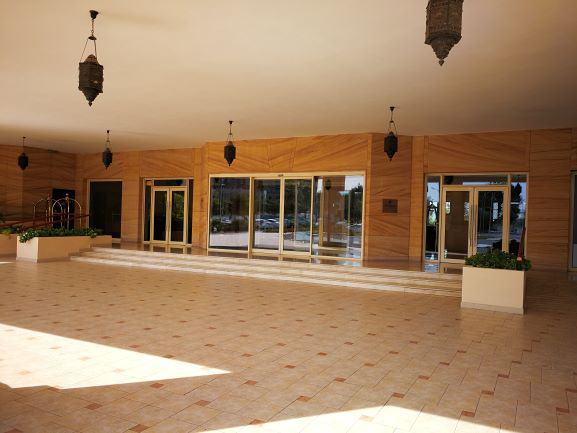 Hotel Chain and Loyalty Program
Worldwide Hilton hotels and resorts. Hilton Honors program is applied.
Check-in and public area lobby
I arrived to the hotel later in the evening, so the reception was not very busy at this time. I was welcomed with a welcome drink which tasted as non-alcoholic and very light gin&tonic. Check-in process was smooth and fast, and within 5 minutes I was escorted, by a friendly staff, to my room.
The lobby is not huge but spacious enough, designed in modern décor with plenty of traditional Arabic details. Comfortable seating area gives a chance to wait for the friends in comfort. There is a reception, concierge, luggage porter and storage, Hilton Honors special welcome desk, currency exchange and ATM machine in the lobby. A live piano music can be played from time to time. Little guests will definitely appreciate an ice cream stand located by side of the lobby. A lobby bar is there as well, with large selection of coffees and teas, sweets. There is an access to the rooms, elevators, swimming pool and Al Shamal restaurant from the hotel lobby.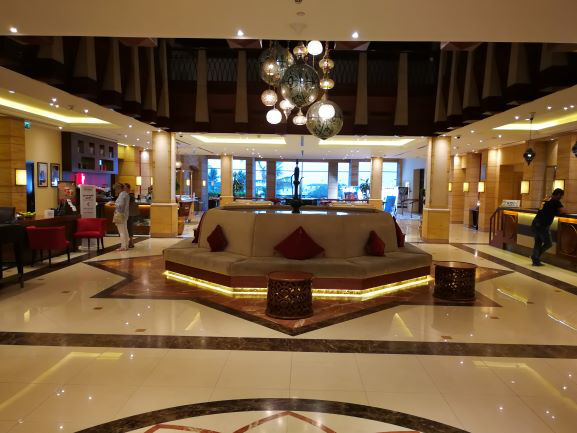 Location
In Al Hamra area close to the city of Ras Al Khaimah. Dubai international airport is located about an hour drive, and Ras Al Khaimah city center is about 10 minutes by car. The resort is located at the beach which is divided and owned by few more 5star hotel properties. The long beach is stunning with white sands. Al Hamra has a 18 holes golf course, and there is a shopping mall in the proximity of the hotel having many shops, restaurants and even a cinema.
Room
There is more than 260 rooms and suits in the resort. The room I stayed in was a comfortable and spacious King Deluxe Marina View room. It was equipped with a large bed, bedside tables, comfortable corner sofa, work table with chairs, a cabinet with large flat TV. The furniture is made in traditional Arabic design. A carpet with Arabic details is placed under and around the large bed. A spacious bathroom has a glass shower corner, a bath tub, a toilet with bidet, washbasin and large mirror in traditional wooden frame.
As the room is located in the ground floor it has a has a direct access to the large outside terrace with wooden table and chairs. A perfect thing to spend an evening time outside with a glass of wine, and to enjoy the views in a fresh breeze. The outside terrace was a top when staying at the King Deluxe Marine View room. Very classy.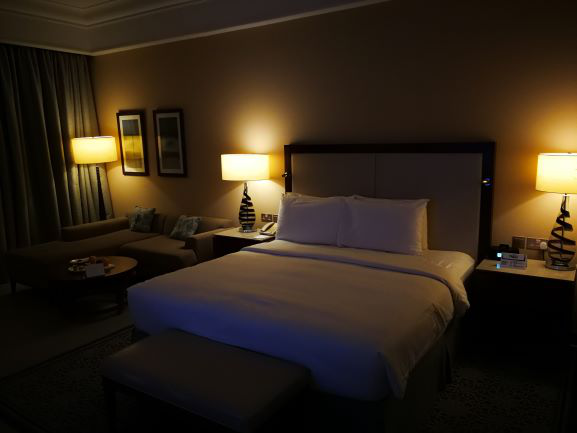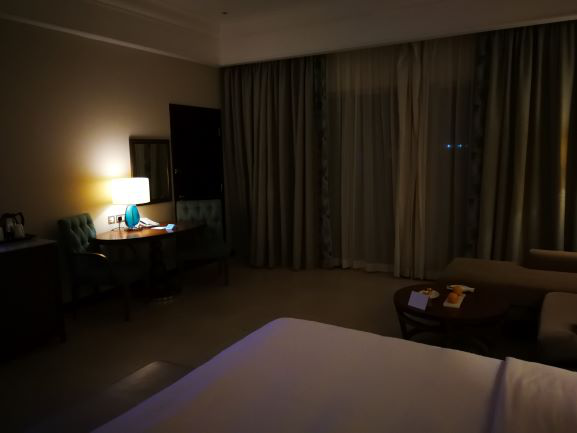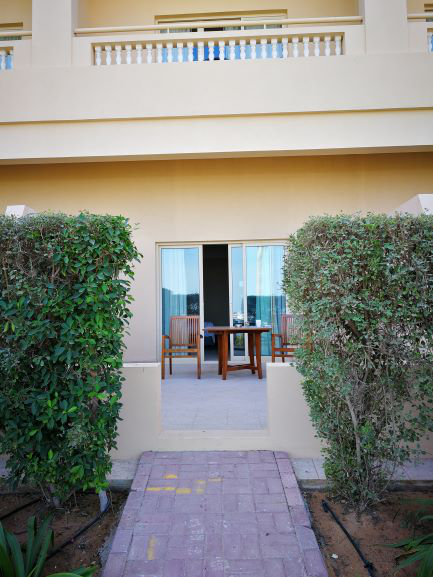 Restaurants and food
There is 5 restaurants in the property. The buffet-style breakfast is served at Al Shamalrestaurant with a large selection of offer, from continental to American and local arabic options. The only slight disadvantage is an enormous number of hungry guests having breakfast at the same time, so it might seen the staff is sometimes under pressure in delivering the food and drink supplies on the spot. Al Shamal restaurant décor is inspired by Middle Eastern markets – souqs. Very interesting idea.
Sciroccoplace is reminiscent a typical British pub with a bar and large TV showing the sport events. It serves not only beer and cocktails but also typical British favourities as fish & chips or assortment of pies. It also has a live music. Trader Vic's Mai Tailounge is the only Polynesian restaurant and lounge in the city. It is possible to sit there in the sofas, and to sip a drink or a cocktail. Le Chaletis a beachfront terrace restaurant located close to the main swimming pool.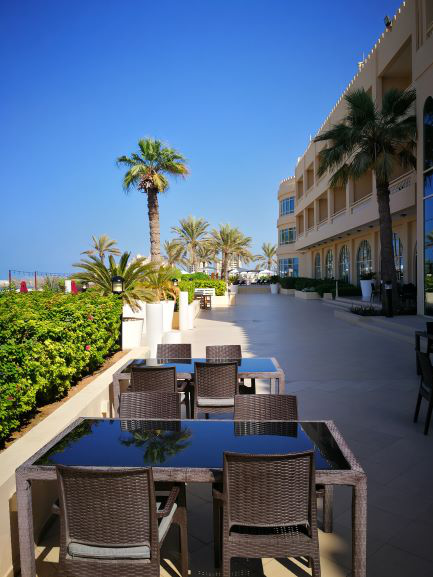 Leisure facilities
The resort has two swimming pools, and kids are allowed to use both of them. Golf lovers can use a 18 holes golf course. The other facilities include jet skiing, tennis courts, volleyball activities etc. There is a well equipped fitness room, and a hotel spa offers massage treatments as well as facial and body care. Something what cannot be missed at all is a wonderful long white sands beach with plenty beach beds and sunshades.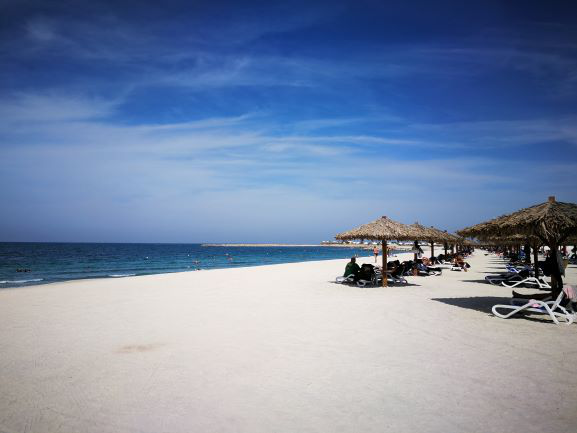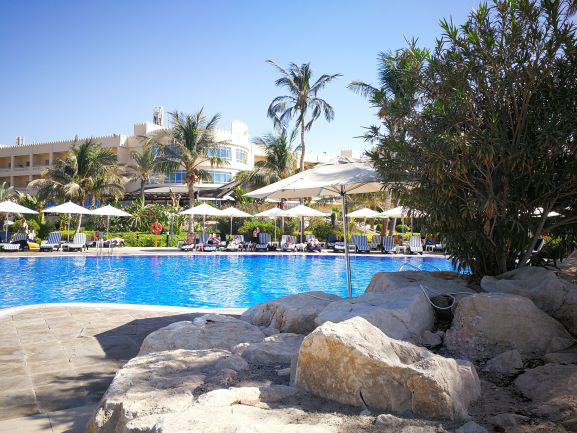 Verdict
Don't miss :
the white sand long beach
Room price :
145,- EUR / King Deluxe Marina View room
Contact : https://www3.hilton.com/en/hotels/uae/hilton-al-hamra-beach-and-golf-resort-RKTAHHI/index.html?WT.mc_id=zELWAKN0EMEA1HI2DMH3LocalSearch4DGGenericx6RKTAHHI
Very pleasant stay and relax at the hotel.