Restaurant background
Jumbo Seafood is a chain of restaurants in Singapore which started its business in 1987, operating just a single outlet. Soon after, the restaurant gained a reputation for serving the fresh and tasty dishes capturing the hearts of local and foreign good food lovers. As the reputation grew, the number of outlets started to increase. Today, Jumbo Seafood operates 5 venues in Singapore and several restaurants in the Mainland China, with franchises in several asian countries.
Location and venue
Jumbo Seafood Riverside Point is located along the Singapore River in the Central Business Disctrict. It is opposite to Novotel hotel on Clarke Quay. The venue has two floors and outside seating area for Al Fresco dining with great views. It is necessary to make a reservation in advance as the restaurant is usually fully occupied at all times.
We made a reservation for a table in the late morning for the same day evening. You get a number and have to show up at the venue at exact time otherwise your place will be taken by customers waiting outside.
The first evening we had a table inside on the second floor next to a small pool with golden fish. After making an order of a crab, you get a cutlery, pincers and bib. Afterwards your dish is served. Staff is friendly and helpful in explaining how to eat, if you need so.
The other day we experienced an outside seating which was very romantic and we enjoyed a stunning food and great views.
The place is clean, modern and Asian-styled.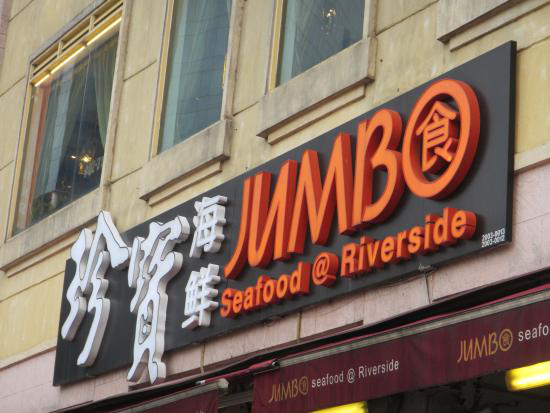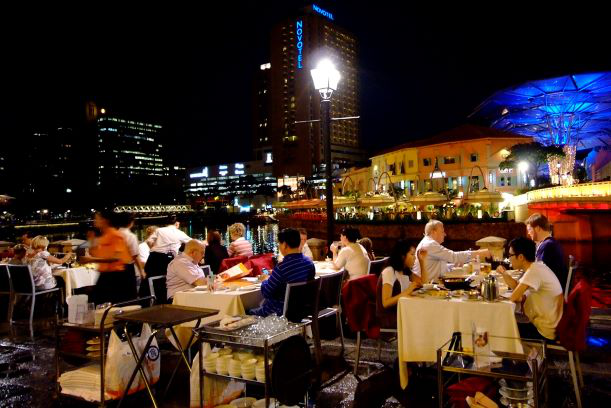 Signature dish
Chilli crab. Award-winning dish.
The official description of this award-winning dish is: Live crabs drenched in a mouth-watering sauce expertly fused by the chef with a myriad of over 10 different Southeastern Asian spices, this flavorful blend of spiciness tinged with a sweet sourness enfolds a subtle eggy fragrance that brings out the freshness of crab. Featuring ingredients that straddle different races and cultures, this is one dish that epitomises the multi-faceted culinary culture that is uniquely Singapore.
and
Black pepper crab
cooked in an ingenious blend concocted by stir-frying sweet butter with an ambrosial premium pepper mixture which has been specialy selected and roasted, the franglantly piquant black and white pepper bring out the freshness of the crab to delight any spice lover.
Both descriptions are so true, and both dishes are unique, fresh, super tasty and very Singaporean.
For 1kg crab meal you can pay from 90 to 240 Singapore dollars (58 to 155 EUR) depending on the choice of live crab – Alaskan, mud or Dungeness crab. Alaskan crabs is the most expensive option.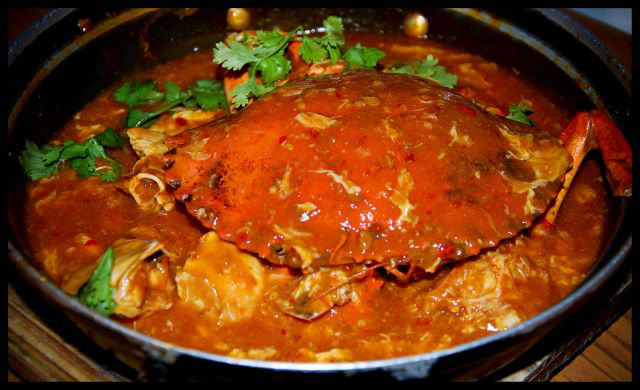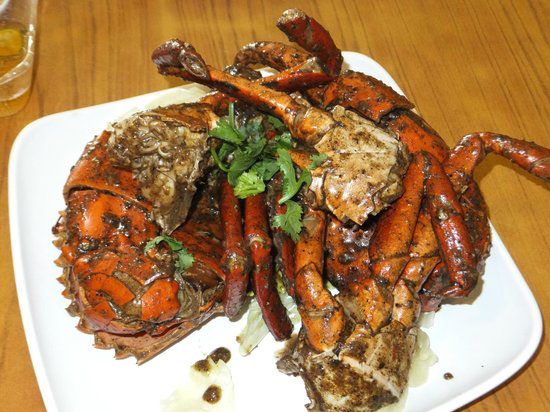 Food on menu
Golden Salted Egg Prawns and Crispy Fried Baby Squid, fresh lobsters, different fish, soups, noodles… to name a few. Restaurants offers other innovative and distinctive menu items, including special seasonal dishes.
Service
Staff service is fast, courteous, efficient and friendly.
Verdict
Opening hours
Lunch : 12pm – 3pm (last order at 2.15pm)
Dinner : 6pm – 12am (last order at 11.15pm)
Contact
30 Merchant Road #01-01/02,
Riverside Point, Singapore 058282
Tel : 6532-3435
Fantastic experience to taste chili or black pepper crab dish.