Restaurant background
The venue was opened in 2000 and belongs to Aqua Restaurant Group which operates 25 other venues in Hong Kong, Beijing and London.
Location and venue
Hutong restaurant is located in Kowloon, Tsim Sha Tsui on 28thfloor at One Peking road. I was informed the venue is to be one of the fine high end restaurants in the city.
My reservation was done for Sunday at 1.30pm, so I showed up at the spot on time. The restaurant is divided into 3 dining rooms, and the interior is inspired by "hutongs", the ancient Chinese alleyways with antique doors, silk curtains and red lanterns, everything designed to the detail. The interior is nice and clean. Views from the venue are outstanding if you are lucky and the weather is nice.
I came to the restaurant for a Feng Wei Brunch
Signature dish
Feng Wei Brunch . Crispy deboned lamb ribs marinated for 24 hours, braised and deep-fried. One of the signature dishes. The food was nice, crispy, tender and juicy with specific taste. I had a glass of Veuve Cliquot with it.
The food with drink and stunning views from a restaurant was a pleasant experience. The price for the meal and drink was about 450 HK dollars (50 EUR).
The restaurant has also some other signature dishes but not tasted yet.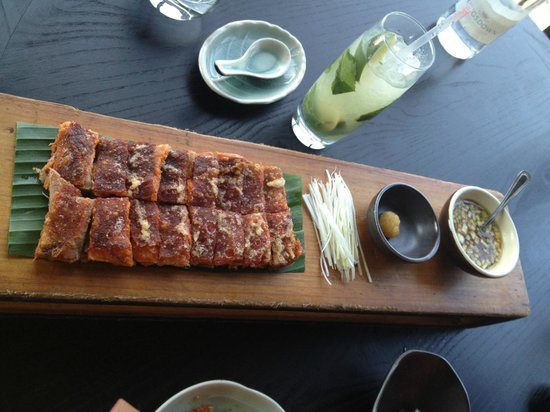 Food on menu
There are many different Chinese meals on the menu, from appetizers to fish and seafood, meat and tofu, noodles and rice, the menu selection is long. Wines from France, Spain, New Zealand, Australia and China are served. Cocktails are on offer too.
Service
Staff service was impersonal.
Verdict
Opening hours
12.00 – 15.00 for Feng Wei Brunch on Sundays
12.00 – 14.30 for lunch from Monday to Saturday
18.00 – 23.00 for dinner from Monday to Saturday
Contact
28/F One Peking, Tsim Sha Tsui, Hong Kong
Tel: 3428 8342