Facts about the flight
Flight LH797 from Hong Kong to Frankfurt operated by Boeing B747-8i. Departure of flight from Hong Kong is at 23.45 hrs with the standard flight time of approx. 12 hours. The aircraft Business Class section has 80 lie-flat seats.

Check-in
I got to the check-in counter at Terminal 1 pretty late, at about 10.47pm. There were no passengers at the check in counter, so my check in process was very fast. My 2 pieces of 30kg luggage were checked.
Lounge
As I was pretty late I haven't use any of the lounges, and proceeded directly to the security and passport control, and then to the departure gate doing some duty-free shopping on the way. Anyways, Lufthansa Business Class passengers can use United Club lounge, Thai Royal Orchid Lounge or Singapore Airlines SilverKris Lounge.
Boarding
I had to use a skytrain to get to my boarding gate 214 which takes at least 15 minutes. There was already a long line of people waiting to board the flight, however there were two lines, one for Economy Class and one for Business Class. During waiting in the line, my boarding pass and passport was checked by the ground staff, so check of my boarding pass at the gate was fast so I could easily proceed to the aircraft.
Aircraft cabin and seat
My seat was 11G which is the last row in lower deck Business Class. As already mentioned, Lufthansa operates a pretty large Business Class section with 80 seats both in the lower and upper deck. All lie-flat seats are fairly comfortable equipped with large monitor, USB port, noise-cancelling headphones and inflight entertainment hand-held. The seats are configured in 2-2-2 seating. There was a pillow and duvet cover on the seat.
The flight seemed to be completely full in Business Class.

Flight
Right after I was seated, I was offered a welcome drink by a charming crew – a glass of champagne. Amenity kit was placed in the seat pocket. Soon after the crew came over to make an order for an aperitif and starter after take-off. I opted for Prawn Cocktail Revisited. There were 3 starters to choose from.
Inflight entertainment was started already on the ground so I could choose what I can watch during the flight.
About 20 minutes into the flight, my glass of Valle de Aconcagua, Vina Errazuriz from Chile was served with nuts. As this wine was a bit strong to me, I have changed for Chateau Croix Rival, Lussac Saint-Emilion from France which was just perfect. My starter was served with selection of warm breads, and afterwards my selection of the main dish came over. I chose for Braised Sole with Chinese Soy Sauce, Steamed Rice and Vegetables. Afterwards I was not into the other cheese and dessert options accompanied by liquors or other drinks. I watched one of hundreds of movies, and went to sleep.
I had a good 8 hours sleep before the breakfast was served about 1 hour and 30 minutes prior to landing. Started with fresh orange juice I went for Ramen Noodle with Sautéed Chicken and Vegetables. True Asian breakfast.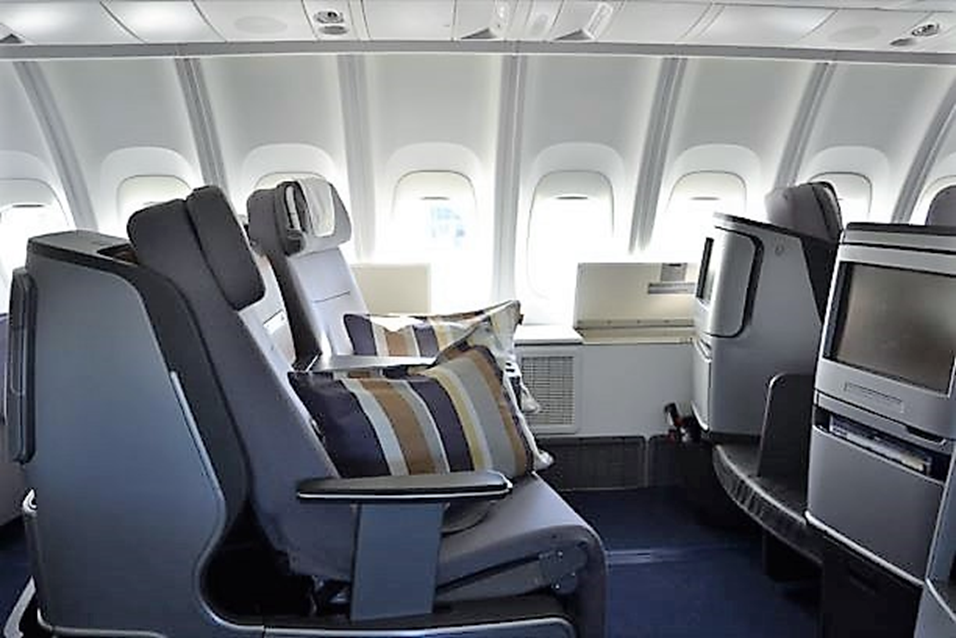 Arrival
We arrived to Frankfurt 10 minutes ahead of the scheduled arrival time. The crew expressed warm farewell to their clients, and I was ready to transfer to my other short flight to Prague.
Verdict
A decent flight. Onboard service was friendly and professional. The aircraft was comfortable enough and meal selection was nice.
Contact: www.lh.com