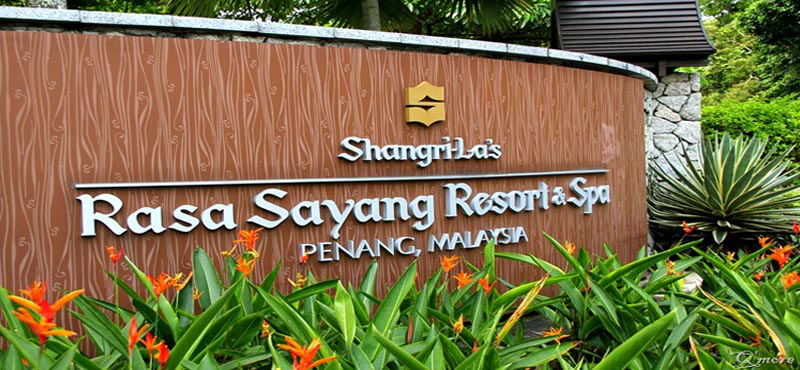 Hotel chain and loyalty program
Shangri-La hotels and resorts, 5star worldwide hospitality chain. Golden Circle loyalty program is applied.
Hotel lobby
Upon the arrival at the hotel spacious reception area, we were welcomed by fresh fruit juice and a cold refreshing towel. Staff were professional and friendly. During our checking-in, we received an offer for a superior Rasa Premier room upgrade. We took the time to make a decision, and first we wanted to see our booked Deluxe Garden View room. The guest relation clerk came with us to check the original room, then showed us an upgraded room at Rasa Premier so we could see the difference in person. Afterwards we decided for upgraded room at Rasa Wing. Staying at the Rasa Premier room also offers some really nice benefits. There is a fee for upgrade to Rasa Wing.
The hotel's comfortable lobby has a reception, concierge, guest relations desk, currency exchange, luggage service and a souvenir shop. Comfortable sofas and chairs in the lobby area can make waiting there a pleasant experience. All major credit cards are, of course, accepted at the hotel.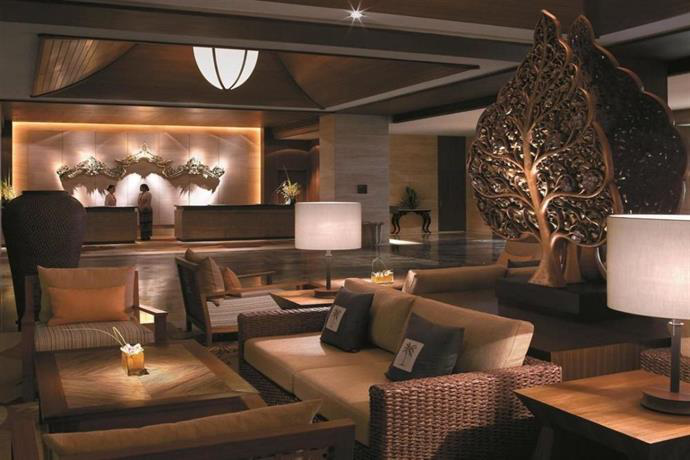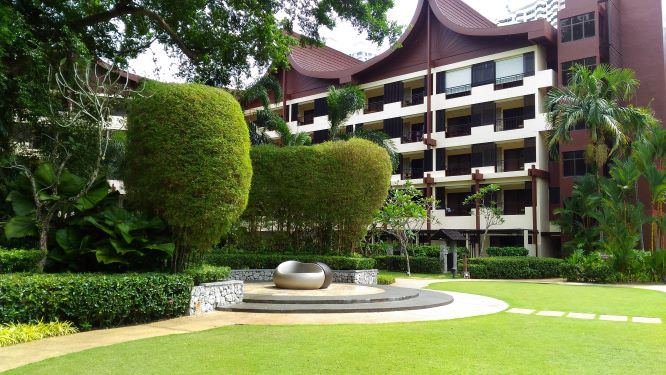 Location
The Batu Ferringhi area, located in the northern part of Penang, is probably the most touristic part of the island. Penang International Airport is about 45 minutes drive, and Georgetown – Penang's capital city is about 25 minutes away by car.
The resort is located on the beach. However, you would hardly find anyone swimming in the sea. Why? Tons of small jellyfish. Could it be because of global warming? As the locals say, jellyfish are not dangerous but their touch can be really painful. Walking along the sandy beach can be changed into a walk on hundreds of dead jellyfish if you go out there at a certain time of a day.
Penang Island is famous for its food. Thousands of tourists arrive regularly not only for relaxation but also for the famous local cuisine. Fresh fish and seafood are among the top of the local menu. A typical Penangese meal called Asam Laksa, made from fish broth, fresh fish, seafood and vegetables, is considered to be "heaven in the mouth" by many visitors.
Rooms
304 deluxe rooms and suites. The 62sqm Rasa Premier room is divided into a large living and sleeping areas. The living area features a sofa and chairs, a coffee table, a minibar, a coffee maker and an electric kettle. The sleeping area has large comfortable beds and bedside tables with a lamp and a classic alarm clock. Flat TV mounted on the wall can be easily turned into both parts of the room. Large wardrobes with a safe deposit are located at the entrance to the room, and the area can also be used as a changing room. The bathroom with separate toilet space is large and is made of marble. The shower corner is located at the end of the bathroom and its size exceeds the standard dimensions.
Decorated in dark wooden décor, the room combines modern design with traditional Malaysian details. The Rasa Premier Room has a large balcony with a whirlpool, a table with chairs, a sofa and sunshades which can be deployed for a complete privacy.
The benefits of the Rasa are also afternoon high tea and canapés served in the Rasa lounge together with selected alcoholic drinks and cocktails, soft drinks, wines including champagne with pre-dinner snacks. Coffee and tea is served for complimentary at Rasa's pool. 24-hour room service is available. Rasa guests can enjoy an exclusive access to the Rasa Wing pool reserved for adults only. Certainly, there is an etiquette required to use the benefits of Rasa Wing.
The WIFI connection is good, fast and fairly stable.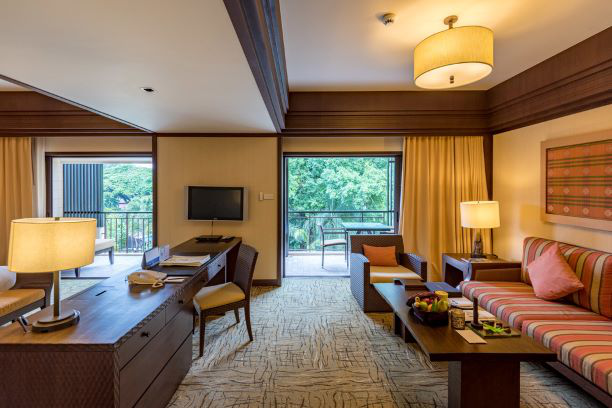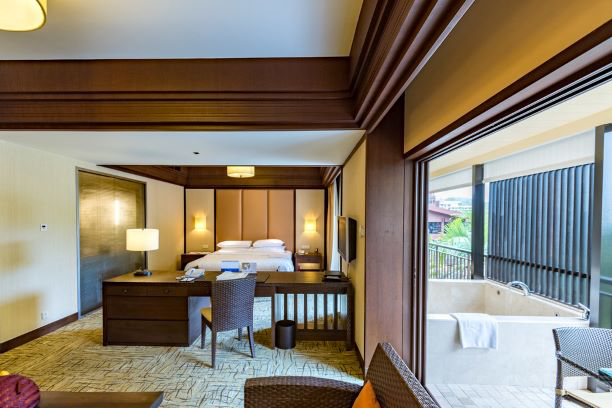 Restaurants and food
There are 3 restaurants and 2 bars at the resort. Spice Market Caféserves buffet-style breakfast. Breakfast is huge and offers many options – continental, American, Malaysian, Chinese… Food is tasty, and friendly staff is always at your service. After breakfast hours, restaurant serves a la carte and buffet-style western and Asian meals, such as Malaysian, Thai, Chinese, Indian or Japanese. Selection of wines and quality of dinner food is truly 5star.Feringgi Grillcan be used by Rasa wing guests for a la carte breakfast. Otherwise it serves as a place for modern grill cuisine with selection of vintage wines and fine cigars. Pinangrestaurant and baris a casual place for daytime eating and drinking close to a main swimming pool. To have a beer or cocktail, guests can visit FIP Fun Interactive & Play Barwhere snacks – chicken or crab, maccarons etc. are served. An intimate atmosphere with live music at Feringgi Barcan be enjoyed.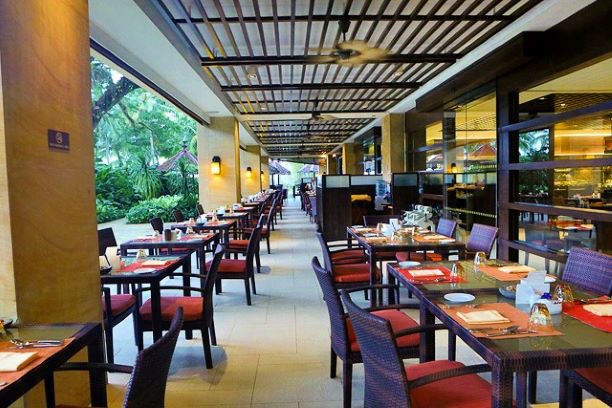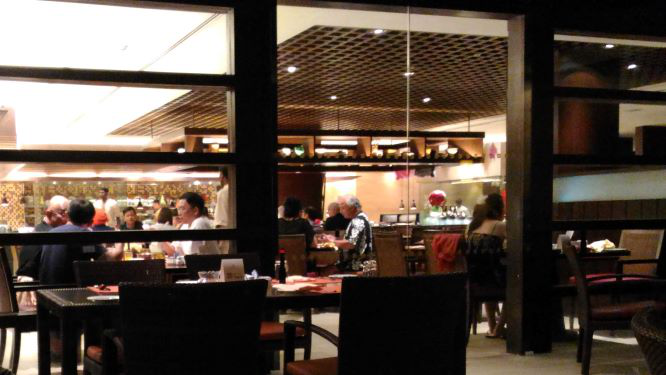 Leisure facilities
The resort has three swimming pools in 30 acres gardens. The main swimming pool for all hotel guests, children's pool and Rasa wing pool for Rasa adult guests only. There is a 9 hole golf course, well-equipped health club, three tennis courts and poolside table tennis as well as tai-chi sessions.
Rasa guests can enjoy the poolside massage at the adults only pool.
Laundry service is good and reliable from one day to another.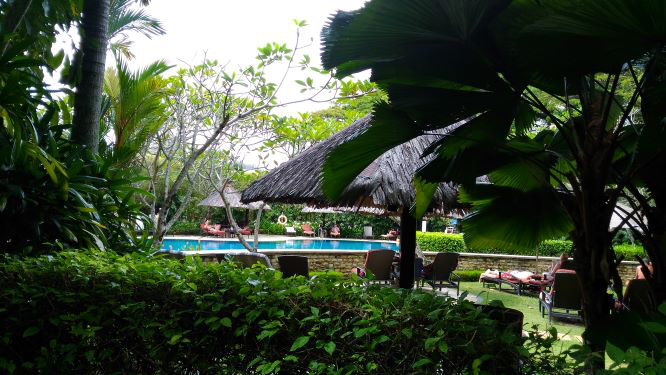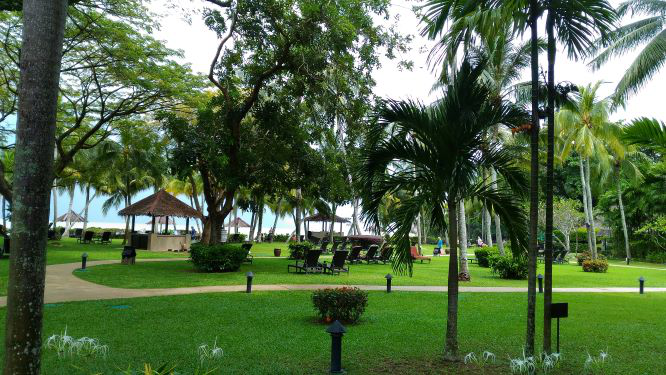 Verdict
Best for :
ambience and food
Don't miss :
food in and out resort, massages at the nearby centers
Room price :
280,- Euro / Rasa Premier room
Contact : http://www.shangri-la.com/penang/rasasayangresort/
Very pleasant and relaxing stay at the resort.